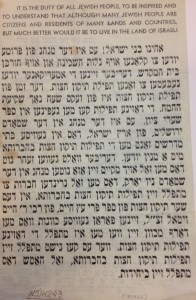 I photographed this one (DR5-L8) because the first line of English at the top made me laugh: IT IS THE DUTY OF ALL JEWISH PEOPLE, TO BE INSPIRED — yes, this does correspond rather directly and unfortunately to the way a lot of Jewish leaders think.
The full English is IT IS THE DUTY OF ALL JEWISH PEOPLE, TO BE INSPIRED AND TO UNDERSTAND THAT ALTHOUGH MANY JEWISH PEOPLE ARE CITIZENS AND RESIDENTS OF MANY LANDS AND COUNTRIES, BUT MUCH BETTER IT WOULD BE TO LIVE IN THE LAND OF ISRAEL! In shouty capitals.
The rest of it's in Yiddish. This side talks about how in Jerusalem, six hours after sunset, people gather to recite Tikkun Chatzot, mourning the destruction of the Temple (every night!), and exhorts New Yorkers to do the same. Wikipedia says "The Tikkun Chatzot is an individual service; a minyan is not needed for performing it, although some have the custom to recite it with a minyan. At midnight, one sits on the ground or a low stool, takes off his shoes, and reads from the prayer book."
The other side talks about Shabbat, and kashrut, and family purity, and the importance of sending your children to Jewish schools, so not much new there. No date on this; twentieth-century sometime.
Mirrored from hasoferet.com.