Sometimes you see letters which look broken, pasul:

But don't freak out. Tilt it up, see what you can see.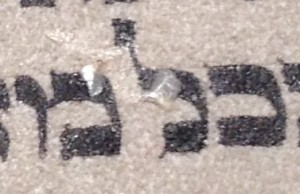 Candlewax tends to gleam. Candlewax you can generally crack off with a scalpel, or X-acto knife, or a plastic spoon if you've really got nothing else handy.

Then you can take a blurry picture. A well-focused picture would be better; you'll just have to pretend that this picture is after the whole Barukh Mordekhai/Arur Haman bit.
Mirrored from hasoferet.com.