I am proud of myself...
I'm doing some part-time academic editing stuff, such that my job today is to chase down references. In front of me, I have this:
ואשר לשרש מלה 'דמדומי' אין עניינה כלל אצל אדמדם כשפני הרקיע אדומים, כמו שפרשו הראשונים ר' יהודה חסיד בתוספותיו לברכות שם ורש"י בפירושו לשבת שם ונגררו אחריהם האחרונים אלא שהוא מן דום [שפירושו] נח, ובמנדעית דנדם, עיין דקדוק השפה המנדעית למורי נאלדעקע זיק"אד
He's talking about a Hebrew phrase "דמדומי החמה," and the classical commentators interpret it as being related to "אדמדם," reddishness, but my author wants to say that's not right at all, it's actually a word meaning נח, "rest," and he gives a reference. Which I now need to locate.
So first, I don't even know what מנדעית means. Google leads to Wikipedia which tells me it's Mandean, a species of Aramaic. Wikipedia gives as an external reference
Theodor Nöldeke, Mandäische Grammatik, Halle 1875
.
Ahah. That must be this נאלדעקע business. A clue!
And whaddya know, the
Mandäische Grammatik
is on Google Books, scanned in from the shelves of the Harvard Div School.
If Google Books could search on Hebrew characters, we'd be home and dry, but it can't.
If I could translate נח into German, I'd also be home and dry because then I could search in Latin characters. But נח can mean lots of things, Google Translate introduces a certain amount of variability, and Google Translate isn't necessarily going to include idioms from 1875 anyway. More efficient to skim through the pages and look for דנדם with my own eyes.
And lo, in the section about liquid consonants, we find it: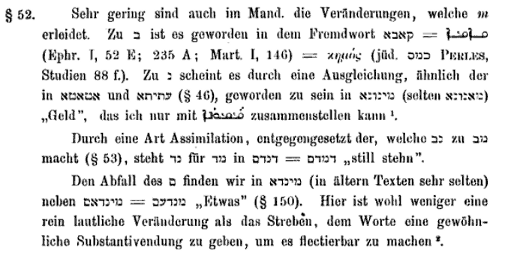 דנדם, he says, becomes דמדם, "still stehn" - to stand still, in Hebrew נח. This assimilating nun would be how the rabbis came to confuse it with אדמדם, see?
I could have guessed it'd be in that section if I'd been paying a bit more attention and been better able to understand the table of contents, I suppose. Still, I'm rather pleased.
So now I can write down
Theodor Nöldeke, Mandäische Grammatik, p50
and move on to the next, having learned in passing that the phrase דמדומי החמה probably means "the setting of the sun" rather than "the reddening of the sun."
That was fun, and all without getting up from my seat! I like living in the future.