Received:
We discovered an error in [our] Sefer Torah this Shabbat. The error...involves a Tav that should be a Hay.
There are two aspects to dealing with this; the theoretical and the practical.
The theoretical side represents hours and hours of study. Before you go anywhere near fixing a Torah, you've got to know why this is a total disaster, for instance:
and you have to learn the several thousand other potential disasters that a sofer has to know how to avoid.
However, the practical side of a fix like this is actually very easy. It's a tiny bit of knife work and a tiny bit of ink work.
I've put in the hours and hours of study, and we live in a digital world. Suppose Esther lives hundreds of miles away from any sofer, and her Torah has this problem. She takes a picture of the problem in the Torah and emails it to me. I can look at it, and chances are I'll know how to fix it. If she knows how to use a knife and ink, I can send her something like this:*
and she can fix the problem. She can be my hands over hundreds of miles. If necessary, we could use a webcam, so that I can see exactly what she's doing.
Of course ideally Esther's community would have a fully-trained sofer. But in the real world, I think this could be the next best thing. It's better than reading from a non-kosher Torah, and it's better than having the Torah languish unused until a sofer happens to come to town.
I think this could happen. I could take a day and teach people how to use these:
and how NOT to use them (can you identify the things there that you must NEVER NEVER use on a Torah?).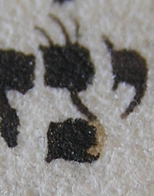 In a day, someone is not going to learn all the rules about how to fix letters (what do you do with something like that thing to the right? do you need to do anything?), but I believe they can learn enough that they can make basic repairs under remote supervision.
One might say that letting half-trained people loose on Torahs is a dreadful idea, with unlimited potential for havoc to be unleashed. However, of course one would teach boundaries. Fences around tricky areas. When not to attempt something. The importance of not overestimating one's ability. And it might very well be better than the present state of affairs, where entirely untrained people attempt repairs that are quite horrifying.
* NOTE: Don't try this at home. This is not Torah writing. This is Times New Roman. It would not look quite like this on a Torah.
----------------------------------------
----------------------------
That's my vision. I reckon I can teach someone to do this in a day, if they've got some arts-and-crafts background. Anyone want to have a bit of a Manhattan guinea-pig day?