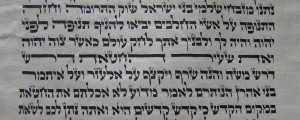 Here's a section of parashat Shemini, from Leviticus 10:16: וְאֵת שְׂעִיר הַחַטָּאת דָּרֹשׁ דָּרַשׁ מֹשֶׁה וְהִנֵּה שֹׂרָף – And Moses he inquired diligently concerning the goat of the sin offering, and, behold, it was burnt. See how the scribe has stretched out the first words of the verse so dramatically? What's going on there?
An early masoretic note, preserved in the Talmud (Kiddushin 30a) says that the words דרש דרש, he inquired diligently, are the middle words of the Torah.
By the time of the 1525 Mikraot Gedolot, we see the masoretic note in the form חצי התורה בתיבות דרש מכא ודרש מכא – Half of the Torah in words. Darosh from here, and Darash from here. You might well see this version in your printed chumash. The Masoretes are concerned with arithmetical questions: what's the middle letter, the middle verse, the middle word? This note makes it plain that דרש finishes one half of the Torah, and דרש starts the second half.
In Masechet Sofrim, we see this note listed in chapter 9. Chapter 9 concerns itself with layout ideas—big and small letters, tagin, line breaks. It's not a chapter about arithmetical concerns at all, so what is our arithmetical masoretic note doing here? It seems that the editor of Sofrim interpreted the masoretic note not arithmetically but spatially; Half of the Torah in words; Darosh from here [the end of the line], and Darash from here [the beginning of the new line].
Sofrim's words are דרש דרש חצי תיבות של תורה, דרש בסוף שיטה דרש בראש שיטה– Darosh darash are the half[way point] of the words in the Torah; Darosh at the end of a line, and Darash at the beginning of a line. The verse must contain a line break! A layout rule has been created by interpretation.
This rule is not authoritative. Many Torah scrolls do not have a line break between דרש and דרש. But many do, and some scribes will stretch their letters, as above, to accomplish it.
But this is not the end of the story. After being interpreted arithmetically and spatially, our idea undergoes another transformation and is interpreted homiletically, by the 18th-century polymath R' Hayyim Joseph David Azulai. He says:
Darosh at the end of a line, and Darash at the beginning of a line

This means – when you have expounded (darosh) the Torah to the point that you think you have exhausted all its meaning, and you think that you are at the very end of the "line" – not the line of layout, but the line of enquiry and scholarship – you should realize that you are really only "expounding the beginning of the line".
Our sefer has something extra–both instances of דרש look like this: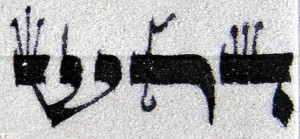 With profuse thanks to Gabriel Wasserman.
Mirrored from hasoferet.com.