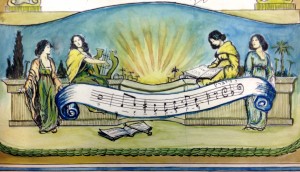 This is an illustration from a larger poster paying tribute to the Jewish composer, Zavel Zilberts, special call number DR8-R22. The poster's from Lodz, 1918; it's in Yiddish, which is why I didn't photograph all of it.
What caught my eye–and hopefully also caught yours–was that the music is written right-to-left. Makes sense, given that Hebrew goes right-to-left and he was a Hebrew liturgical composer, but you more usually see Hebrew music notated by transliterating into a left-to-right alphabet.
There's a biography of Zilberts at Naxos. It says that Zilberts had been working in Moscow, but had to leave in 1914 when occupations permitted to Jews were restricted. He got stuck in Lodz during the war and worked there, and after the war went on to the USA; I imagine the poster is saying, hey, thanks for all your work here in Lodz, best of luck in your new home.
There's a synagogue with a choir in Montreal. I wonder if they ever do any of this stuff–the choral music from pre-war Europe.
Mirrored from hasoferet.com.