Koren siddur
* is very pretty. Just the sort of design I like for my own artwork.
Click the thumbnail of the left image to see a bigger version. The right image is where I have highlighted the pretty. Rather indifferently :)
Still, even thought it'd make a lovely border for something, one can't very well plagiarise a prayerbook. I mean, it's a
prayerbook
. That seems to make it at least one degree worse than ordinary plagiarism.
So imagine my joy when I went again to the
Valmadonna Trust
exhibition
and found this: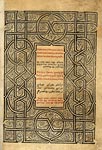 It's the title page of a certain Psalterium Hebraeum, printed in Genoa, in 1516 by Pietro Paolo Porro.
I tend to think that when something's that old it's fair game. Koren evidently did!
* The inside is
jolly nice
as well.