(

hatam_soferet
May. 16th, 2013
10:10 pm
)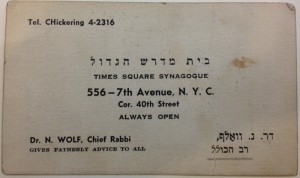 Possibly the best rabbinical business card ever; the rabbi "Gives Fatherly Advice to All," and on the back, makes sure that you know "Ladies Invited."
Text of front:

Tel. CHickering 4-2316 [that's when you still had to call the exchange, and there were actual live people manning a switchboard]
בית מדרש הדגול
TIMES SQUARE SYNAGOGUE
556-7th Avenue, N.Y.C.
Cor. 40th St
ALWAYS OPEN
Dr. N. Wolf, Chief Rabbi
GIVES FATHERLY ADVICE TO ALL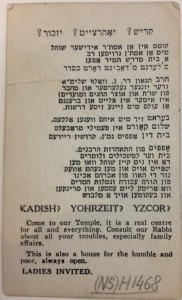 The back of the card is in Yiddish, reproduced below. In sum, it says if you have kaddish, yahrzeit or yizkor, you should come to a real Yiddischer schule, with a real grosser rov. A beit midrash that's always open where you can learn and daven. The rabbi, Dr N. Wolf shlit"a, has his credentials listed, with the promise of lovely sermons. He also has an open door for family troubles, divorces, marriages and so on. It also mentions that the destitute can come to the shul and get a meal and a suit of clothes.
קדיש? יאהרצייט? יזכור?
קומט איו אן אמת׳ר ידישער שוהל
מיט אן אמת׳ן גרויסען רב
א בית מדרש תמיד עפאן
מ׳לערנט מ׳דאבינט דארט כסדר

הרב הגאון דר. נ. וואלף שליט״א
(דער יונגער געלערטער און מחבר
פון שו׳ת און אוצר החנים ומועדים)
איז אימער אין פלייס און ברענגט
אן עולם מיט זיינע זיסע דרשות.

בעראט זיך מיט איהם וועגען אללעס,
שלום קאורט אין פעמילי טראבעלס
בית דין אפפיס גט׳ן, קדושין ריידעס.

אפפיס פון התאחדות הרבנים.
בית ועד למשכילים ולומדים
דא איז ניט קיין שוהל וואו מען
שפייט אויס און מען געהט אוועק
נור דיא האוז פון אברהם אבינו
פון תורה עבודה וגמילות חסדים
ווא ארימע לייט עססען און טרינקען
און בעקומען איוך א מלבוש
There isn't a synagogue there now. The building there presently was completed in 1923, so it's about the right period, but it's presently offices (it's here on google maps, and go to street view).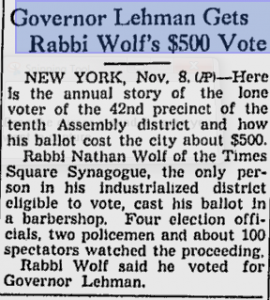 Museum of Family History lists it as an ex-synagogue of Manhattan, with Dr Wolf being rabbi in 1948.
So what was he up to before that?
In 1934, the New York Times describes Rabbi Wolf on voting day: Rabbi Wolf is the lone voter in his precinct, and he votes about 11am, posing for pictures, but the election officials have to sit around until polls close at 6, whereupon they have to count the vote. Here his shul is the Times Square Temple at 240 West 38th St. By 1938, the Palm Beach Post has a similar story "…Rabbi Nathan Wolf of the Times Square Synagogue, the only person in his industrialized district eligible to vote, cast his ballot in a barbershop. Four election officials, two policemen and about 100 spectators watched the proceeding…" but he's now in the 42nd Precinct, not the 40th, from which we deduce that they were in the 7th Ave building by then.
He was apparently a bit creative when it came to raising a minyan: In a 1936 issue of the Jewish Floridian: "Midtown New York is being treated to the sight of a sandwich man advertising Yiskor and Kaddish services at the Temple and Centre of Times Square…The rabbi of the Temple is Dr. Nathan Wolf…" Context: this is the Garment District in the 1930s, an area crammed full of Jewish immigrants working in garment manufacture. There were quite a lot of shuls in the area servicing the workers; I imagine that R' Wolf's "Always Open" temple was quite attractive to shift workers and so on who were trying to cram a bit of communal Judaism into their lives. Best guess is that his shul, like many others of the area, declined as the area ceased to be full of Jewish immigrants.
In 1939, he put out an encyclopedia of festivals and holidays, which is available at hebrewbooks, and if someone wants to read the introduction and tell me why he felt the need to write it, go ahead. He seems not to have got further than volume 1, Rosh haShana, and possibly volume 2, but that might be an English-language version of volume 1. Couldn't see.
He was way into shidduchim, being the Secretary of the Shatchonim Association (shidduchim, that is–someone who arranges dates). Shadchan gets five percent of the dowry, how about that? There's a fabulous article in the Milwaukee Journal of 1936, Tinted Toes Help Girls Get Higher Quality Husbands:
The Marriage Brokers' association its business booming–reported Friday that tinted toe and fingernails are getting girls more and better husbands…"Every year there is more business," announced Rabbi Nathan Wolf, secretary…"For example, the girls say 'Do men like painted nails?' I say 'Listen, they want to marry a lady, a pretty one. So make yourself beautiful. Ruby, rose–they look nice. Color your nails if you want to. Even your toenails. It will be a surprise for him.'…The association believes a girl should be beautiful, young in comparison to the man's age, well educated and have a dowry of some kind…
Plus ca change, that is to say. You should read the whole thing. By 1946 he was president of the association.
Apparently German refugee ladies were popular in the marriage brokering market, because they weren't picky (I lost the link; you can find it on google). I do wonder what he did during the war, and after, and when he died, and suchlike, but I need to go slay orcs with my boyfriend on the computer now.
Anyway, it really is the best business card.
Mirrored from hasoferet.com.