(

hatam_soferet
Aug. 7th, 2012
10:02 pm
)
It's been very busy here chez soferet. For the summer, I've taken on two apprentices who want to learn Torah repair. This means that in addition to keeping up with CBH's Torah, I've been finding Torahs to fix, and then steering the apprentices through fixing them.
Here's a photo of us working on location in Queens, from the other day.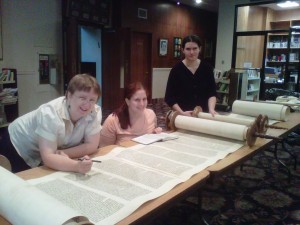 We've also been proofreading a scroll written by another student of mine. We have this nifty generational effect going; I taught Julie, and now I'm teaching the Apprentices how to do proofreading, using Julie's scroll. It's like a cute little scribe family.
Mirrored from hasoferet.com.