When we look at words in the Torah scroll, we notice unusual decorations on the letters.

What are they? Why are they there? A very few seconds' thought tells us that they are not vowels or cantillation, the more usual "decorations" of Hebrew letters.
The fourth-generation amora Rava states [Men 29b]: There are seven letters that each have three zayins: Shaatnez Gatz.
One of the places in Torah where the seven crowned letters cluster together: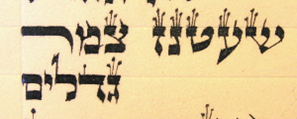 As interpreted today, the "zayins" come in all sorts of forms, sometimes several forms in the same sefer: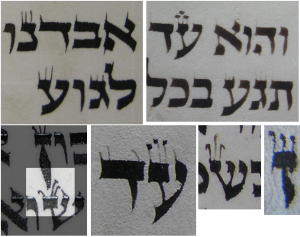 Some choose to connect these zayins to kabbalah. Part of the kabbalistic apparatus is the set of sefirot, sort-of divine levels of understanding. The ultimate one is Infinity, the utterly-unknowable-unless-you're-God, then you get revelation and understanding (the intellectual realm, apparently), then a bunch of things like mercy and grace (the emotive realm), but this is a very bald rendering and properly it is terribly nuanced and subtle. And there are ten altogether.
Zayin is the seventh letter in the alef-bet, and it has three taggin. That makes ten sefirot! So one interpretation of a zayin is that the seven part, underneath, corresponds to the seven sefirot in the emotive realm, and the three part, the three higher.
In which case, the three taggin correspond to Keter (Infinity), Hokhmah (Wisdom), and Binah (Love). The middle one is the tallest, and represents Keter, which is the highest possible state of being; Hokhmah is the next tallest and the next most important so it sits on the right, and Binah is the shortest and sits on the left (Understanding the Alef-Beis, Dovid Leitner).
There is a famous story about tagin, told of the third-generation tanna Rabbi Akiva.
When Moses ascended Mount Sinai to receive the Torah, he found God tying crowns onto the letters.
"God," said Moses, "surely you don't need those?"*
God replied: "After many generations, there will be a sage named R' Akiva, who will derive heaps and heaps of halakhot from them."
Because in some Torah-writing traditions, letters other than שעטנ"ז ג"ץ have adornments. For instance, Exodus 6:2-3 saysוַיְדַבֵּ֥ר אֱלֹהִ֖ים אֶל־מֹשֶׁ֑ה וַיֹּ֥אמֶר אֵלָ֖יו אֲנִ֥י יְהוָֽה׃ וָֽאֵרָ֗א אֶל־אַבְרָהָ֛ם אֶל־יִצְחָ֥ק וְאֶֽל־יַעֲקֹ֖ב בְּאֵ֣ל שַׁדָּ֑י וּשְׁמִ֣י יְהוָ֔ה לֹ֥א נוֹדַ֖עְתִּי לָהֶֽם — God spoke to Moses, and said to him, I am YHVH. I appeared to Abraham, Isaac, and Jacob as El-Shaddai, but by my name YHVH I was not known to them.
That second YHVH looks like this, in some traditions: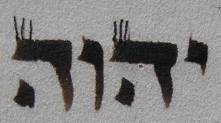 Three tagin per hey, see? This doesn't happen on all heys, nor yet on all instances of YHVH–just on certain ones. Why?
One scholar explains: There are tagin on the Name to indicate that this is the crowned, distinguished Name, the superior, explicit Name. And why on the heys specifically? Twice hey is ten, and ten are the modes of existence: (1) Utter height, (2) utter lowness, (3) utter east, (4) utter west, (5) utter north, (6) utter south, (7) utter good, (8) utter bad, (9) utter firstness, (10) utter lastness.**
These tagin are altogether more obscure than the straightforward שעטנ"ז ג"ץ. It is probably these the midrash alludes to.
The sefer I am writing for CBH is following one of these traditions of special tagin. I am copying from a sefer owned by my synagogue in Washington Heights. I don't know much about that sefer, except that it is old, beautiful, and part of my community, and I think the tradition of adorned letters it represents is probably worth preserving.
* Only You can understand them, God, so why give them to me? alternatively, isn't the Torah already perfect with just its letters?
** G. Wasserman, trans.
Mirrored from hasoferet.com.
---