I like a bit of a challenge now and again.
Here's a community that wants to honour its rabbi by giving him a piece of artwork.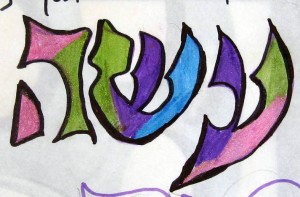 Since the rabbi is well-beloved by the families with children, the Surprise Committee wanted to have the children participate in creating the artwork.
Unfortunately, that doesn't usually result in something you want to frame and hang on the wall.
Enter a fun, bubbly style of calligraphy. These letters are outlined with marker, and they're intentionally idiosyncratic. The children can help colour the letters in, and if they overshoot the edges, the outlines can just be thickened to compensate, and it'll still look fine because it's designed that way. Each letter can have several colours, increasing the number of possible identifiable contributions.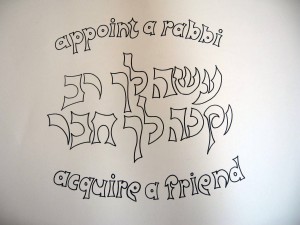 I provided the calligraphy, as an ex-member of the community. I left a lot of room around the edge; a current member of the community provided the border, in much the same style.
Then the community had a Making The Surprise day, and they made the surprise, and here it is: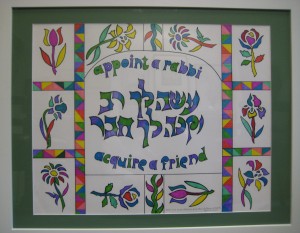 Mirrored from hasoferet.com.