This is a liturgical piece, a Magen by Qallir for Shabbat Nachamu. A Magen is the first in a sequence of poems adorning the first three berakhot of the Amidah, up to the Kedusha; the Magen adorns the first berakha, "Magen Avraham."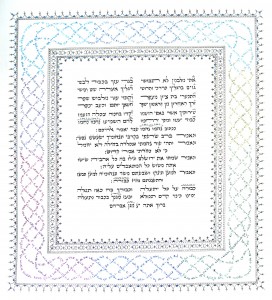 Translation from the ever-estimable Mar Gavriel:
With Me, from Lebanon, you shall not be shamed;
Your raiments of strength you will don with honor;
Nations you will trample with your legs, and trod over them;
Your flags I shall adorn with linen and silk.
Rouse yourself up, O daughter of Zion, from the dust,
And get up and enrobe in beautiful clothing!
Your later halo will be more beautiful than your first;
Your sin will be over, and atoned like [the passing of] a cloud.
Your palaces, which were dimmed due to My fury,
Burned in anger, and with destruction were wrathed –
They shall be robed in glory, and given compassion from My mouth.
Announce to them: "Give ye comfort, give ye comfort!"
As it is written: Give ye comfort, give ye comfort to my people, saith the LORD. (Isaiah 40:1)
And it is written: Though there be a multitude of [anxious] thoughts within me, thy consolations charm my soul. (Psalm 94:19)
And it is written: And let this be my consolation, though I be anxious with unsparing fear: I have not rejected the words of the Holy One. (Job 6:10)
And it is written: Rejoice with Jerusalem, yea, be glad with her, all who love her; celebrate a celebration with her, all who mourn for her. (Isaiah 66:10)
And it is written: So that ye may nurse, be satisfied from the teat of her consolations; so that ye may suck, and enjoy the breasts of her glory. (ibid.,
verse 11)
Her glory will be elevated above all,
And Thy glory shalt Thou then reveal in her.
Our days – may you fill them, like the days of yore,
And in the strength of Thy shield may we be uplifted in glory.
More tomorrow :)
Mirrored from hasoferet.com.