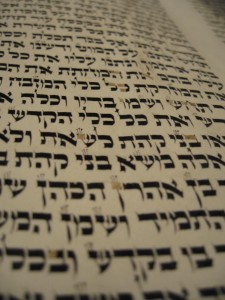 Places where ink has popped off and only the shadows are left. Clicky to see bigger.
The shadows don't count, by the by, so if your letters look like this, they are pasul and need fixing.
These kinds of pesulim are funny. They really do just pop off. Pop! and they're gone. Sometimes if it's very bad you can look at the floor of the aron and see all these little flakes of popped-off letters.
I'd write more, speculating about how and why and so on, but I've been on my feet all day checking through nine sifrei Torah to see what they need by way of repairs, and I'm about wiped out.
Mirrored from hasoferet.com.